7 Steps To Design Charts With A Color Blind Friendly Palette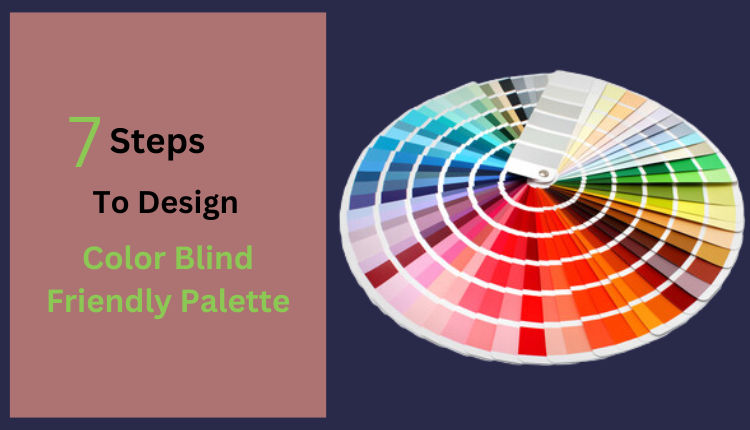 1. ​Plan Out Your Color Scheme Beforehand
Using a color blind friendly palette with accessible colors doesn't mean you need to compromise on aesthetics or strip out all the color from your charts. By planning, you can ensure a color blind friendly palette compliments your design, rather than clashes.
And every palette should generate adheres to a contrast ratio of 4.5:1 as per the latest Web Content Accessibility Guidelines (WCAG) 2.1 AA.
In other words, the designs you create with these color combos will be compliant and inclusive.
After all, if it turns out your colors aren't particularly suited to color blind people—and accessibility is important to you—it's better to find this out before you've invested considerable time and effort in your design composition.
TIP: If you're stuck, try using a tool like Coblis, a free color blind simulator that will give you a better sense of how your images will appear to people with color blindness.
2. Avoid Problematic Color Combinations
Another reason you should plan out your color scheme beforehand is so you can avoid using problematic color combinations, some of which can make your charts or infographics completely inaccessible to color blind people.

Color combinations to avoid for people with color blindness include:
Red & green

Green & brown
Green & blue
Blue & gray

Blue & purple

Green & gray

Green & black

If you're stuck and absolutely must use one of these combinations, try making adjusting the shades so one is extremely dark, and the other extremely light—most color blind people can detect contrast, so this likely will make things easier.
3. Use highly contrasting colors
As previously mentioned, contrast isn't an issue for most people who are color blind. Darken and lighten your colors, respectively, to make the contrast more pronounced. You can also play with different hues, as well as levels of brightness and saturation.
4. Use patterns and textures
Using patterns and textures in your design is a great way to incorporate visual elements into your design that doesn't rely on color.
5. Use symbols
Symbols and icons are a great way to make your designs more accessible because they can visually punctuate a message, without relying on color.

6. Make your chart monochromatic
Because color blindness doesn't impact the ability to distinguish between different shades, consider making your charts monochromatic. Using a restricted color palette will naturally mean there are fewer opportunities to use problematic colors or combinations.
7. Keep your design clean and simple
When you're designing for accessibility, it's important to keep your infographics as simple and streamlined as possible.
Adopting a minimalistic approach will help ensure your presentations are more easily understood, whether or not your audience is color blind.